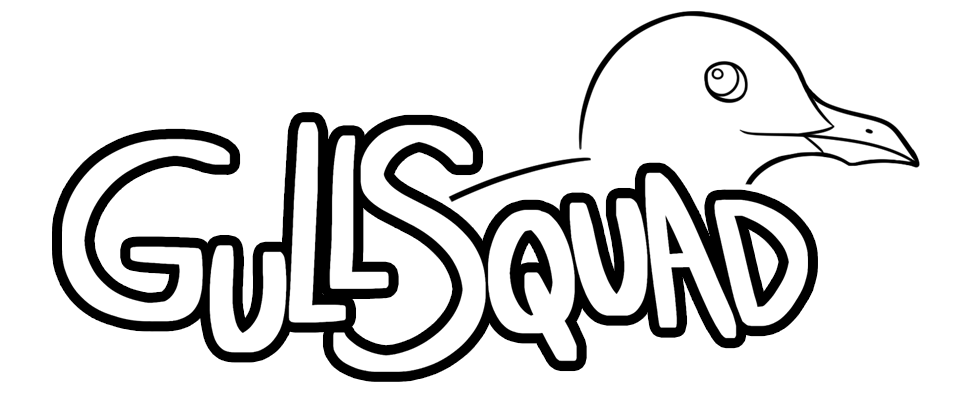 Gull Squad
You and your Gull Squad have received terrible news. Your favorite restaurant is shutting down for good. Not content with eating the sup-par competition for the rest of your lives you know you are the only ones with the sheer audacity to try to save it.

About
Gull Squad is a single page tabletop game for a Game Master and 2+ players that uses cartoon logic and slapstick failures.
It is rules-lite , fail positive game which features two distinct ways in which a gull can fail their tasks.
The game also includes a Character Sheet which doubles as a coloring book page for designing your gull, drawing their favorite food, and play a fun game.


Basic Info
Gm: Yes
Players: 2+
Sessions: Single
Items Needed: 2d6, optional crayons/markers
Play Time: 90 - 180 min


File Types
PDF, both Rules and Character Sheet

PNG, Rules and Character Sheet downloaded separate
HTML, Rules only

Plain TXT, Rules only

EPub, Rules Only


Contact: @KadenRamstack
Special Thanks to John Harper's Lasers and Feelings for one page layout inspiration

This game is published under the CreativeCommons 4.0 Attribution License
I.e. You may hack, modify, and make supplementals for Gull Squad and charge for it as you see fit

Not interested in gulls? Try Numbskulls, a game about skeletons in disguise instead!

Purchase
In order to download this game you must purchase it at or above the minimum price of $5 USD. You will get access to the following files:
Gull Squad Character Sheet.png
1 MB
Gull Squad Plain Text.txt
3 kB
Exclusive content
Support this game at or above a special price point to receive something exclusive.
Community Copies
Take one no questions asked!!