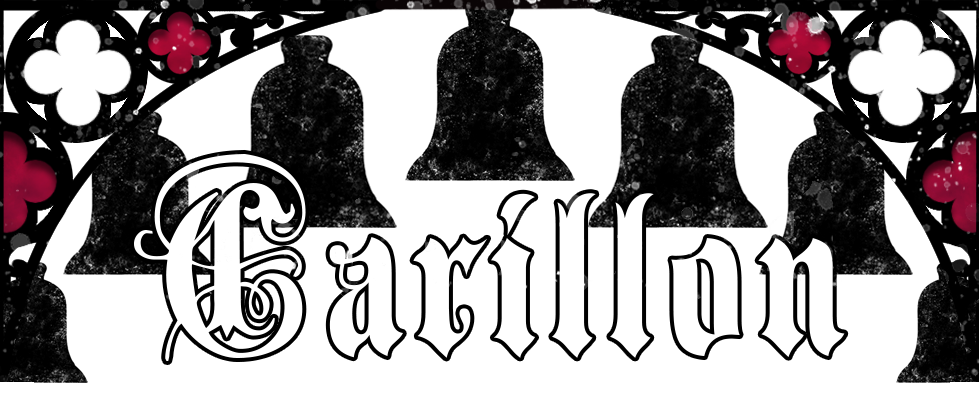 Carillon - A Trophy Dark Incursion

CARE

-uh-lawn (US)
kuh-

RILL

-yun (UK)

An instrument consisting of at least twenty-three bells connected to ropes and pulleys which are is connected to a keyboard made of wooden pegs.

You first heard it in your dreams, played on the Black Stone Cathedral's Carillon, the largest know instrument, consisting of seventy-two bells made from a precious, lost metal-recipe.
The Song was ethereal, beguiling, seductive, and unfinished.

You've since begun to hear it on the wind, in the voices of strangers, in the tapping of the workmen's hammers, and in your own absent thoughts, begging you to complete it.

It has called to you and you have answered.
Theme: Stillness

About
Carillon is an incursion for the dark fantasy horror game Trophy Dark which you will need a copy to play. It is about traveling in the dead of winter to an abandoned Cathedral in search of the bells up top the tower and being wary of what is listening.

Media Touchstones:
The Silt Verses (Audio Drama 2021-)
Pontypool (Film 2008)
Fargo (Film 1996)
Incursion Info:

6 Rituals
6 Backgrounds
6 Drives
18 Conditions
3 Moments per Ring

File Information
Full Color PDF Spreads
Plain Text PDF
Txt File
HTML File
Epub File

Licensing and Attribution
This work is based on Trophy (trophyrpg.com), product of Jesse Ross and Hedgemaze Press, and licensed for our use under the Creative Commons Attribution 4.0 License
(https://creativecommons.org/licenses/by/4.0/).

Trophy is adapted from Cthulhu Dark with permission of Graham Walmsley.

Trophy is also based on Blades in the Dark (found at http://www.bladesinthedark.com/), product of One Seven Design, developed and authored by John Harper, and licensed for our use under the Creative Commons Attribution 3.0 Unported license (http://creativecommons.org/licenses/by/3.0/).


Trophy™ is a trademark of Hedgemaze Press. The trademark and "Designed for Trophy" Logo are © Hedgemaze Press, and are used with permission.




Content Warnings
Click to expand

Compulsive Actions
Animal Death
Stalking
Grave robbing / Desecration of Graves
Discussions of a dead loved one
Claustrophobia
Religion
Heights
Dead Bodies
Freezing



Purchase
In order to download this incursion you must purchase it at or above the minimum price of $5 USD. You will get access to the following files:
Carillon Plain Text.pdf
118 kB
Exclusive content
Support this incursion at or above a special price point to receive something exclusive.
Community Copies
Take one, no questions asked!